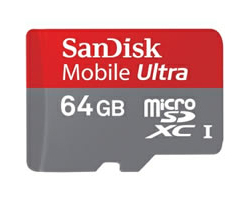 Link:
http://www.ebay.in/itm/SanDisk-Ultra-64G...1821531177
Note: Seller rating is (14) 88.9% Positive, so buy your own risk
Created for people who live their life under the constant sound of music, SanDisk Mobile Ultra memory card is the ideal device for entertainment. With its 64 GB storage space, this SanDisk SDSDQUA-064G-A11A allows you to preserve many photos, music, videos and all kind of digital data, without worrying that the space is not enough. What's more, this microSDXC card is great for expanding the storage capacity of your digital camera, smartphone or tablet. Also, you can easily transfer files from your SanDisk Mobile Ultra memory card by using the Secure Digital adapter, which is included in it. Moreover, the class 10 means that the reading speed is up to 30 MB/s, making the SanDisk SDSDQUA-064G-A11A a device, which transfers data quickly. Plus, with this microSDXC card you can shoot Full HD videos, store them on your device, and keep your video high-quality. Finally, the SanDisk Mobile Ultra memory card has everything you need in a memory card, combining big storage and high-speed.
Add up to 64 GB of storage space to Android or other smartphone or tablet
Class 10 for recording Full HD video
Read speeds up to 48 MB/s for fast file transfer
SanDisk Memory Zone app supports automatic file transfer to free up space on your device
Waterproof, temperature proof, X-ray proof, and magnet proof
manufacturer warranty