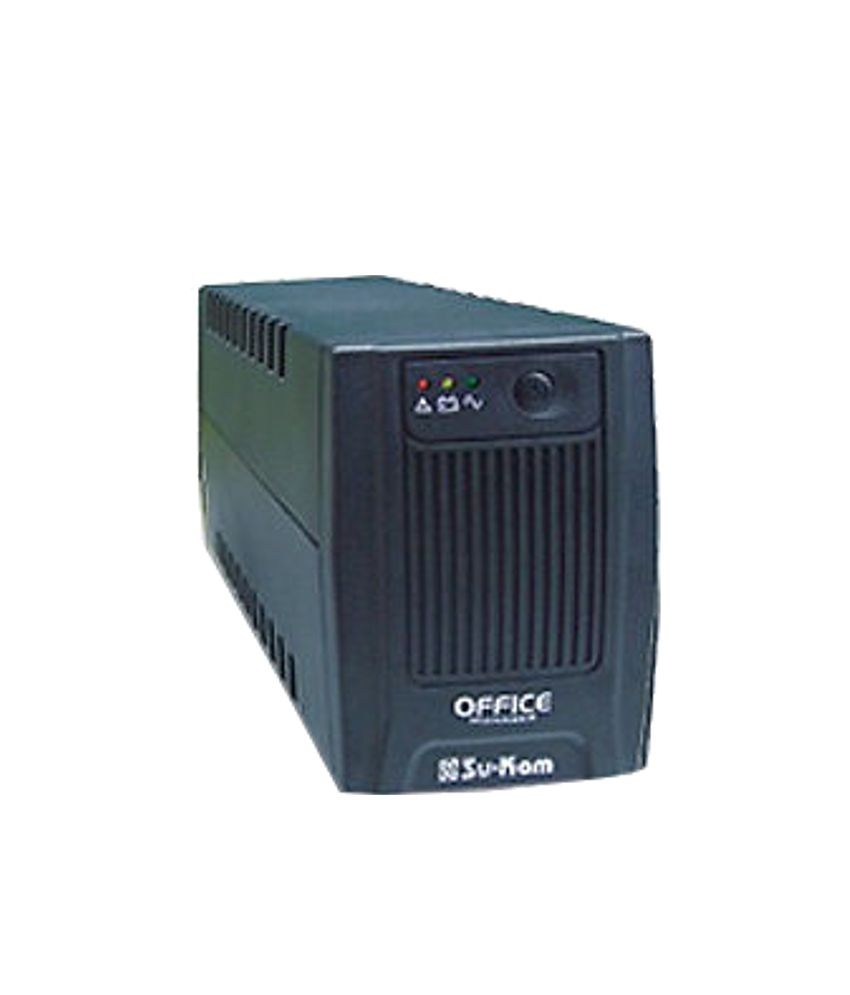 MRP : Rs.2890/-
Offer price : Rs.1118/-
Deal Link :
http://www.snapdeal.com/product/sukam-60.../411402815
- Technology : Micro controller based PWM
- Over Volt Protection : Yes
- Compatible With : All
- Type : Inverters
- Supports : Main line
The Su-Kam 600 VA UPS inverter is designed especially for the Indian office management. Equipped with ultra-advanced features, this unit offers multiple advantages. The inverter saves you money as you do not require external batteries for operation as needed in contemporary invertors. Designed with an ultra-advanced Short Circuit Protection and Overload Protection this device has a high utility and safety quotient. This device reduces your electricity costs by consuming much less power as compared to other machines. It provides full output to efficiently run a computer with several other appliances without any noise. It has a highly advanced self-start Automatic Voltage Regulator which maximises protection of your gadgets from voltage fluctuation. An in built mobile charger is upgradeable and the user friendly LED display and audible alarm make this UPS office inverter extremely convenient and safe to use. With this inverter you can be assured of having your important appliances and machines safeguarded as the unit prevents damage to them due to voltage fluctuations with utmost efficiency. The inverter works on a power rating of 600 VA. Avail the superior performing home inverter at a very affordable price.
Design & Technology
Designed with a Micro Controller Based PWM Technology Using MOSFET which employs Pure Sine waveform, the Su-Kam 600 VA UPS inverter offers optimal performance and compatibility with all kinds of gadgets. It requires a charging current of power rating of 600 VA. It has a new generation self start Automatic Voltage Regulator which safeguards the computer from voltage fluctuation. The ergonomically designed inverter is a utilitarian element that enhances the performance of your gadget.
Visual Indicators
An ultra-advanced LED display of Su-Kam 600 VA inverter lets you enjoy control the inverter in a snap. The super easy feature enables you to optimise performance of your appliances and other machines with utmost ease.
Audio Alarm
It comes with an audio alarm to alert you about the low battery status, charging, overload and fuse short-circuit.
Battery Charging & Management
Compatible with a robust battery and upgradable mobile charger, this inverter operates at a minimum cost. The long lasting battery of this inverter lets you use your appliance connected to it for extended period of time. The long battery life combined with multiple other superior features of Su-Kam 600 VA UPS inverter add to the life of your appliance and do away with high maintenance bills.
Safety & Durability
Su-Kam 600 VA Office Manager UPS inverter comes with Short Circuit Protection and Overload Protection to offer maximum the protection to your gadgets. The advanced technology offers all round safety to your gadgets by safeguarding it from voltage fluctuations. With an ergonomic design and durable non-corrosive body, this high-end inverter extends the life of the unit. This powerful protection and performance enhancer is highly functional to offer you a stress-free voltage stabilising experience.
Power Input & Output
The Su-Kam 600 VA UPS inverter works on 600 VA power rating and Pure Sine waveform which is perfect for all types of gadgets.
Price Comparison
Amazon @ OOS
http://www.amazon.in/Office-Manager-Sine...B010F21MB8
Infibeam @ 2527 [OOS]
http://www.infibeam.com/Home_Appliances/...cat-z.html
Pricemart @ 2700
https://www.primemart.in/su-kam-600-va-s...rters.html
Price Chart