Store Link
: 
http://www.snapdeal.com/brand/levi-s/men...?sort=dhtl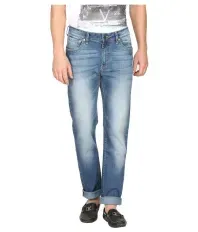 In 1853, when Levi's first started manufacturing blue jeans, they became a revolutionary piece of clothing. Ever since, Levi's has made vast improvisations and improvements in terms of quality, build and design in their jeans. At Snapdeal, you will come across a wide range of Levi's jeans for men which are designed with care to cater to people who have diverse preferences. There is a pair for everyone.
The Perfect Fit
A fine pair of jeans is something that should not only fit you like second skin but also look good on you. You can choose from many kinds of fits. For instance, if you want a pair of jeans that will give you a sleek and tight fit, then you should opt for the collection of Levi's slim fit jeans for men. You also have the option of choosing the Levi's regular fit jeans which provide utmost comfort. Try the Levi's straight fit jeans, which are a favourite with most due to its subtle style.
Colour Me Smart
Long gone are the days when the traditional blue jeans were in fashion. Nowadays, not only do you get jeans of multiple designs and fabrics, but many different colours also. From navy blue to shades of green, you can choose jeans of various colours which will suit your mood and personality. Try a khaki one if you have a penchant for the offbeat.
Material and Fabric
Levi's jeans gained popularity due to its stylish designs and comfortable fabric. Levi's cotton jeans are not only comfortable to wear but also easy to wash. You can also opt for jeans that are made of blended cotton.