MRP: Rs.2,049/-
Offer Price: Rs.999/-
Link: 
http://www.moglix.com/healthgenie-bp-mon...voknav7wj7
Healthgenie BP Monitor BPM02T by Healthgenie is designed to measure blood pressure and pulse rate of an individual. It uses Oscillometric method of blood pressure measurement. As we know every third person is suffering from blood pressure. Many a times it's hard to find out the ups and down going in blood pressure, to get rid of the problem Healthgenie presents a digital upper arm Blood Pressure Monitor with great accuracy, digital quality, reliability and credibility. The automatic off in the monitor helps an individual to operate easily. The Physicians even encourage you to manage your blood pressure through monitor. In addition, to get correct diagnosis at any place at any time this product will act effectively.
These blood pressure monitors work in order to detect blood flow across the artery and convert the flow into digital reading. It does not create any kind of discomfort by undesirable inflation settings.
Features of Healthgenie BP Monitor BPM02T
Design - BP monitor is designed with 46.4x62.7 mm LCD screen with large size that easily indicates the result. It appears in a fashion of month,day,hour and minute as a data function. Its design is compact and small in size compared to others.
Accuracy - It gives accurate and consistent results with zero digital errors. It provides +/-5% pulse with +/-3mmHg pressure. The pulse range is between 30 to 180 beat/minute.
Memory Storage - This monitor has a good storage capacity, which can store at least 60 records for two people respectively.
Irregular heartbeat Indicator - This monitor has a unique property, which indicates irregular heartbeat, the indicator blinks when the alert is being noticed. It also helps you to diagnose the abnormal functions such as hypertension followed by your heart.
Convenient - The digital monitor is quite handy, easy to use and easy to maintain. It is environment friendly, portable in carrying to places. It has cuff fit arms with the circumference of 22.0-36.0 cm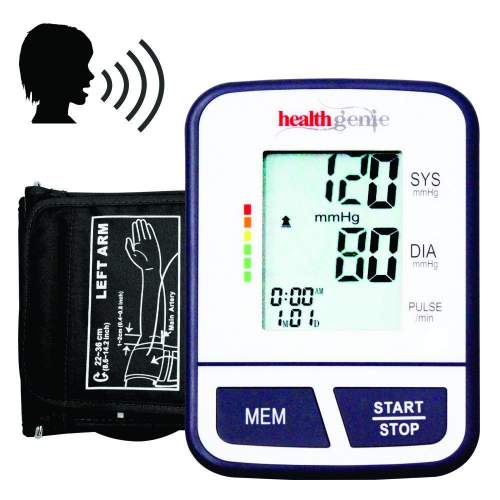 ---
It helps the blind and visually impaired to make health checks independently as the monitor also gives voice outputMonitor is designed with 46.4x62.7 mm LCD screen with large size that easily indicates the resultIt appears in a fashion of month,day,hour and minute as a data functionAutomatic off feature in the monitor
---
Amazon @ 1249
http://www.amazon.in/Healthgenie-BPM02T-...B010FGSPKA
Snapdeal @ 1399
https://www.snapdeal.com/product/healthg...2338628474
Paytm @ 1449
https://paytm.com/shop/p/healthgenie-bp-...04EE0335D5
Flipkart @ 1299
https://www.flipkart.com/healthgenie-bpm...a8jcg8dguq
Healthgenie @ 1299
http://www.healthgenie.in/healthgenie-bp-monitor-bpm02t
industrybuying @ 1325
http://www.industrybuying.com/blood-pres...L.1501549/