MRP: Rs.1575/-
Offer Price: Rs.749/-
Link:
Red @
https://www.flipkart.com/eveready-hl-51-...F9TTQZ5PNH
Yellow @
https://www.flipkart.com/eveready-hl-51-...P8ZHDZBURS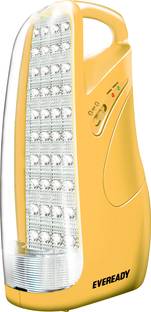 This has the best build quality that i have ever come across in emergency lamps.
The following features are very nice indeed.
Auto cut when fully charged.
Auto light up when power fails.
There is a switch that allows you to choose between 20 LED's and 40 LED's lighting up.
It has a fixed face/ housing for the 40 LED's and the best part is the bottom has a neat compartment to store the charging cord/power cord.
for those of you who want more features like a round LED torch in addition to the front lamp or if you want the front face/housing to swivel and rotate to use it like a table lamp, then i suggest go for the HL-52 LED model which is also available here.
Last but not the least, the packing and delivery of flipkart is fantastic. Got this in mint condition in two days.
Price Comparison
Amazon @ 1425
https://paytm.com/shop/p/eveready-hl-51-...HL51EVYLFR
Moglix @ 1249
http://www.moglix.com/eveready-hl-51-red...snj43dak5f
Shopclues @ 1249
http://www.shopclues.com/eveready-hl51-l...t-red.html
Snapdeal @ 1131
http://www.snapdeal.com/product/eveready...1472414050
Pepperfry @ 1459
https://www.pepperfry.com/eveready-hl-51...04164.html
paytm @ 1420
https://paytm.com/shop/p/eveready-hl-51-...HL51EVYLFR